The History of Black News Anchors in America
Many people believe Max Robinson to be the first Black news anchor on a major network and when he became one of the three anchors heading up "World News Tonight" in 1978. At the time, he was following in the footsteps of Malvin R. Goode, who in 1962 became the first Black news correspondent on a major television network.
It perhaps goes without saying that, much like Black actors have struggled in Hollywood, Black journalists have long found it hard to find success in news media and obtain the highly sought-after position of TV news anchor. For a long time, still including today, the role has played a very important part in society. After all, television news gives journalists the opportunity to both tell and show the news to the public, and the person delivering that news to you ultimately has to be somebody you trust in order to take it in as fact. Black people weren't trusted for a long-time.
But times have evolved.
Now, it is certainly not uncommon to see Black news anchors. And while we still have a long way to go in terms of equal representation in the news, we do want to celebrate the Black news anchors of today that America, and in particular Black America, is trusting with the delivery of its news and understanding of the world.
Before we dive into our list of the most important Black news anchors in today's media landscape, I wanted to first pay homage to some of the folks that made it possible for today's Black journalist to reach the top of their industries and get behind some of the more prominent newsdesks in America:
Historically Significant Black News Anchors:
Max Robinson: As mentioned before, Robinson was first African-American to anchor a daily network newscast, when he joined the desk of "ABC World News Tonight" in 1978 until his run ended in 1984. He often found himself in deep conflict with the management of ABC News as he fought for a more accurate portrayal of Black people in their broadcasts.
Monica Kaufman Pearson: She was the first African-American, and the first woman, to anchor a daily evening television news broadcast in the Atlanta metropolitan area. Since then, she has gone on to execute remarkable news coverage and journalism, including her most recent shows, "A Seat at the Table" and "Monica Pearson: One on One".
Bernard Shaw: One of the longest-tenured anchors in history, Shaw was the chief anchor for CNN. As CNN rose its profile immensely during the Gulf War, it was Shaw largely leading the charge from behind the desk and into America's cable household living rooms.
Belva Davis: Growing up Oakland, California, Davis helped lead the Black news anchor charge from out west, becoming the first Black female news anchor in Western America. Her debut came in 1970, sitting behind the desk for KPIX, a CBS affiliate in San Francisco. Her coverage included monumental Bay Area events, including the Berkeley riots and the rise of the Black Panthers.
Hopefully the achievements of those important and pioneering Black journalists gave you some inspiration. Now let's dive into the important Black men and Black women shaping TV journalism from behind anchor desk today.
Black Male News Anchors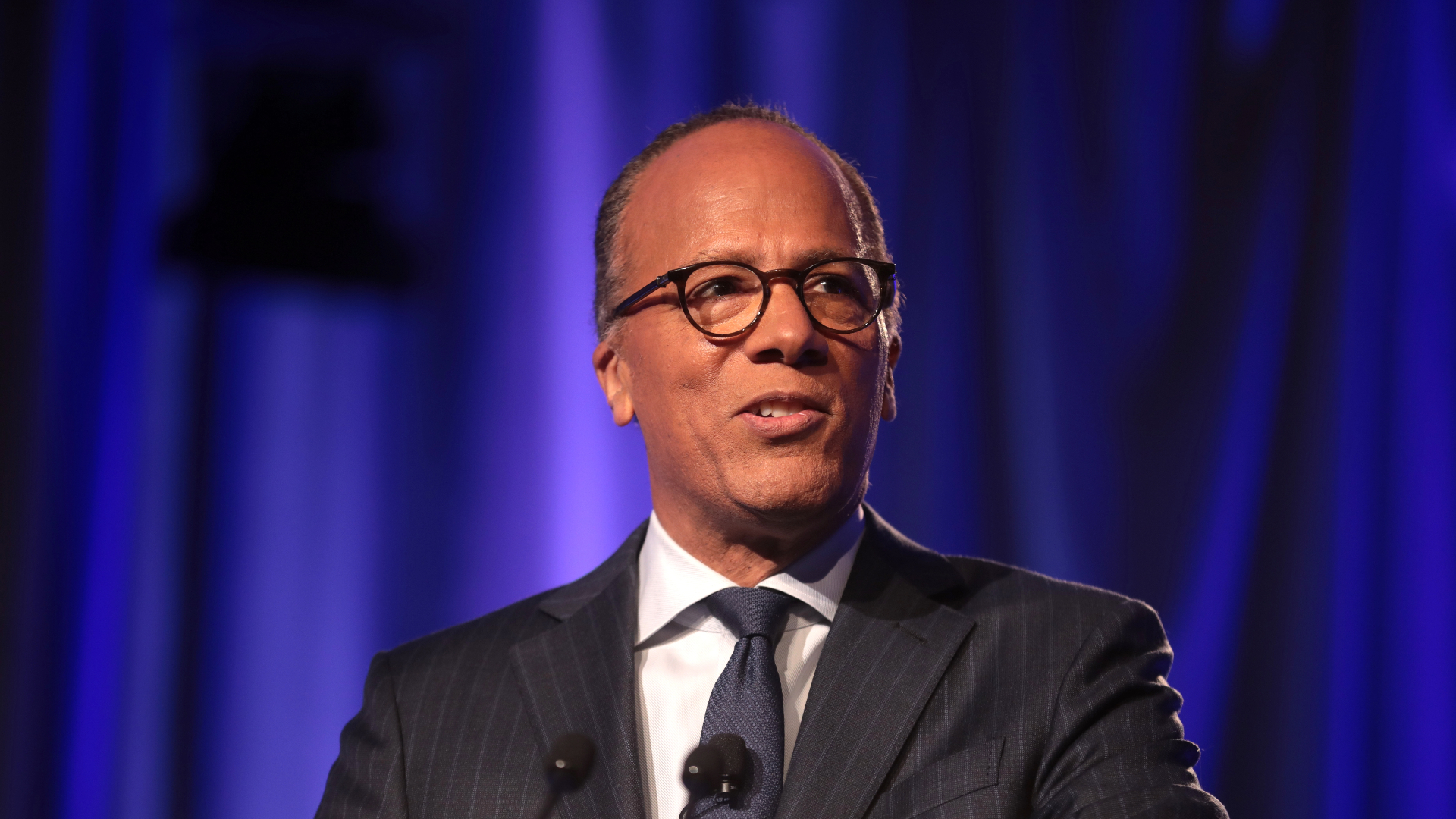 Lester Holt
Lester Holt, the emblematic face of integrity in journalism, stands tall behind the NBC News desk, a familiar and trusted figure to news enthusiasts everywhere. A proud graduate of California State University, Holt has been the unflinching anchor of "NBC Nightly News" since 2015, a role he took over after a distinguished tenure anchoring the show's weekend edition. His journalistic versatility shines as he also helms "Dateline," delving into intriguing stories that capture the nation's attention.
As NBC's go-to anchor for high-stakes events, Holt's expertise was on full display when he adeptly co-anchored the most recent Republican Presidential Nominee Debate in Miami on November 8th, 2023. His role in these debates is more than just a job; it's a testament to his ability to navigate complex political discourse with ease and fairness.
Holt's tenure at NBC has been nothing short of illustrious. He has not only moderated multiple presidential debates but also conducted pivotal interviews with several U.S. Presidents, offering viewers insightful and hard-hitting journalism. His commitment to being at the forefront of major events is evident in his reporting from the Summer Olympics and being the first to report from the scene of countless breaking news events, natural disasters, and significant historical moments.
Before his time at NBC, Holt honed his skills at CBS News for 19 years, where he left an indelible mark with his insightful reporting. His journey also includes stints at local stations in media hubs like New York City, Los Angeles, and Chicago. His career trajectory is a rich tapestry of experiences, from covering critical national issues to connecting with communities on local stories.
What sets Holt apart is not just his longevity in the industry but his unwavering commitment to journalistic integrity and his ability to connect with viewers on a human level. He's earned numerous accolades, including multiple Emmy Awards, testament to his profound impact on broadcast journalism. Lester Holt isn't just a news anchor; he's an enduring symbol of trust and excellence in a field that demands nothing less.
Geoff Bennett
Bennett, a graduate of Morehouse College, and a true millennial having been born in 1980, is the co-anchor for "PBS NewsHour", where he arrived at the outset of 2023. As part of PBS's news coverage, he helps deliver some of the more pressing, and deeply told, news stories of the day.
Before PBS, he largely was a correspondent, serving at both the White House and Capitol Hill for networks like NY1, MSNBC and NBC News. Being the millennial that he is, it's only natural that one of the younger black broadcast news anchors started off his career working as an editor and reporter for AOL Television.
Don Lemon
A graduate of Brooklyn College, Lemon is one of the most visible Black news anchors in America. Often faced with criticism for his opinionated approach to the news, whether you like it or not, the former CNN anchor was highly visible as essentially the face of biggest TV news network in the world. Fired in 2023 after a failed stint as the lead anchor of CNN's morning programming, Lemon is currently sitting out the news, with many of us awaiting his next move in the new arena. But his unceremonious firing from CNN aside, Lemond did a lot of great work at CNN. Most notably to me, it was his Sunday evening show when he was at his best, as it allowed him to press world figures, celebrities, and politicians on the issues of the day, while also providing an insider's context to the news that, prior to him, was often left out of the news conversation.
Of course, his rise from that show to primetime during the week put him in a different and bigger limelight, where his opinions weren't always as welcomed. That said, with most journalists resolute on the symbolism of objectivity, the lack of Lemon's perspective and contextualization of the news from an African-American perspective has left a hole in the news media in the eyes of many Black news viewers.
Errol Louis
The native Harlemnite, with degrees from Harvard, Yale and Brooklyn Law School, while not often on a national stage, is perhaps best suited for his role as one of NY1's most prominent news anchors covering the politics of New York City. Joining NY1 in 2010, Louis immediately became the host of "Inside City Hall", a nightly program covering New York City politics. The show is an hour of Louis talking with the mayor, debating with political consultants, diving into the news of the day with current and former politicians, talking with reporters, and in-depth looks at issues directly affecting New York City residents.
Louis' dynamism as a host and someone who can breakdown the news has afforded him guests on CNN and other news networks. As a result of his intense coverage of New York politics, Louis was once named by "New York Magazine" as one of the top 10 New Yorkers making a difference in they city. Prior to entering journalism, Louis was professor, a law school graduate, and the founder of a credit union, which dubbed him the moniker "the hip-hop banker".
Errol Barnett
Even though he's from Britain, Errol Barnett is making significant impact in the U.S. as one of young, black news anchors delivering the news on regular basis. After moving to the U.S. for high school, Barnett eventually became a graduate of UCLA. However, during those educational years, Barnett was actually chosen to work with Channel One News, a news content provider for American schools, where as a super young adult, he was covering major stories, including the 9/11 terrorist attacks. With his career in news off to an early and auspicious start by the time he left UCLA, he was quickly scooped up by CNN. There, he started off largely covering the rise of social media, including contributing to the highly-viewed streaming of President Barack Obama's first inauguration. Barnett also served as an anchor on CNN Newsroom.
Currently, Barnett is using his experience and talents at CBS News Streaming Network, serving as both a news anchor and a national correspondent out the company's New York City headquarters. During his time there, he has covered major stories like the death of Queen Elizabeth, Hurricane Dorian, and the overturning of Roe v. Wade. As you can see, Barnett's experience and career is made up of the events and issues that define American millennials, making him one of the few black anchors of the millennial generation. So pay close attention to him, as he's likely to be covering the millennial, and Black, stories that define a generation for years and years to come.
Lawrence B. Jones III
Lawrence Billy Jones III, known as Lawrence Jones, is a prominent young Black conservative voice in mainstream media, co-anchoring Fox News' "Fox & Friends." Born in 1992 in Garland, Texas, Jones kickstarted his political journey early, running for a local school board at 19. Despite not winning, he went on to serve on several boards and studied political science and criminal justice at the University of North Texas.
Jones joined Fox News in 2018, contributing to various shows before hosting "Lawrence Jones Cross Country" and later becoming a permanent co-host of "Fox & Friends." Known for his libertarian views, he has discussed race relations and corporate accountability in the U.S., notably in his special program following George Floyd's death.
Despite controversies, like supporting a pizza shop refusing to cater a gay wedding, Jones maintains a significant media presence. He has kept his private life discreet, though he occasionally shares insights about his family's influence on him. His recent book, "American Man: Speaking the Truth about the War on Masculinity," explores his thoughts on societal issues. At 30, Lawrence Jones represents, if nothing else, a unique and influential figure in American politics and media as a young Black conservative.
Black Female News Anchors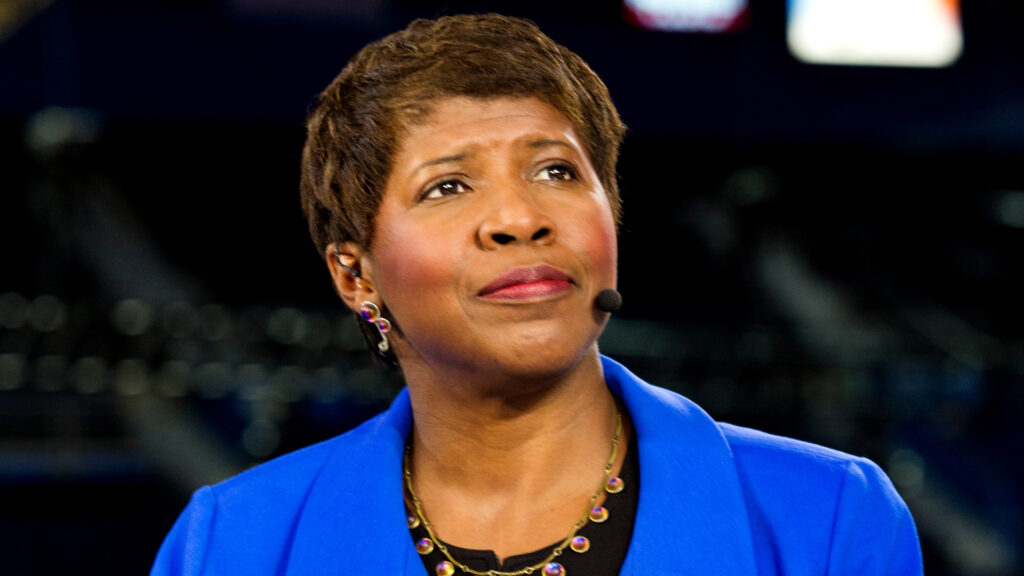 Gwen Ifill
If Lester Holt is the OG of Black news anchors, Gwen is the "Godmother" sitting in the anchor chair. A native New Yorker, and a graduate of Simmons College, Ifill was a longtime reporter at amazing news institutions like the Baltimore Evening Sun, The Washington Post, The New York Times and the Boston Herald, where during her internship there, she has said that a note was once left on her desk saying "Nigger go home". It wasn't until 1994, 17 years after graduating from college, that NBC News hired her for her first job in television news. The in 1999, Ifill began to work on PBS's "Washington Week in Review", becoming the first Black woman to host a national political talk show on TV. As her star and talent for delivering the news grews, Ifill began to build quite following. This led to many more prolific opportunities including including commentating on "Meet the Press" and "Face the Nation". And of course, we cannot forget about her control under pressure at Vice President ant Presidential debates, which she began doing almost 20 years ago.
Abby Phillip
One of the younger journalists anchoring a national news desk, Phillip, a graduate of Harvard University, is also one of the new faces of CNN's latest primetime lineup, which also includes fellow Black woman anchor, Laura Coates. Of course, Phillip had already been in the anchor chair, having previously claimed the role of anchor in 2021, leading up "Inside Politics", one of CNN's premier Sunday morning news shows. After spending years covering Capitol Hill and Whitehouse for Politico, Phillip brings an experienced understanding of D.C. politics to the anchor chair, often able to take of the most inane political conversation and turn it into something viewers can truly understand. That's probably why she has become a stalwart of CNN's special event coverage around elections and Presidential debates, as she has been one of the more relatable voices anchoring the news desk in those moments.
Joy-Ann Reid
Joy-Ann Reid's journey to the top is nothing short of inspiring. Starting out in the business world, she swapped spreadsheets for scripts after graduating from Harvard. In '97, she kicked off her journalism career with a job hosting a South Florida morning show. In between stints, she dabbled in advocacy and politics too, showing she's not just a one-trick pony. But in 2006, suddenly, Reid was all over the news co-hosting the radio talk show 'Wake Up South Florida' while doubling as a political columnist for the 'Miami Herald.' Her career really took off when she became the managing editor at TheGrio from 2011 to 2014.
It was then in 2014 that she began lighting up the screen on MSNBC with her own show, 'The Reid Report'—a nod to her early-days political blog. She didn't just stop there. Reid also took the reins of 'AM Joy' on weekend mornings and filled in for other MSNBC stars like Rachel Maddow.
The real game-changer came in 2020. Joy-Ann Reid made history, landing the 7pm primetime spot with 'The ReidOut' on MSNBC. This wasn't just a win for her; it was a monumental moment for representation. As the first Black woman anchoring a primetime cable news show, she's shattered ceilings and shown millions of black viewers that they too have a voice in these high-profile newsrooms. Reid's not just reporting the news; she's making it, inspiring a whole generation along the way.
Gayle King
Okay, let's talk about Gayle King, and I'm not just dropping the name because she's Oprah's BFF. This woman's got a journalism game that's all her own. A proud grad from the University of Maryland, Gayle has been rocking it as the co-host and anchor of CBS Mornings since 2011. When it comes to navigating America's rollercoaster of recent events – think the wild 2012 Presidential election, Trump's era, the whole COVID chaos, and the Me Too movement – Gayle's been like that friend who keeps it real, calm, and insightful.
Now, having Gayle on one of America's top morning shows? Huge deal for Black viewers. She's been more than just a news deliverer; she's been a voice that adds depth and context, especially when it's about issues that hit close to home for the Black community. From the heart-wrenching Trayvon Martin case, the intense Ferguson uproar, to the powerful movements like Black Lives Matter and #SayHerName, Gayle hasn't just been reporting news; she's been weaving in the perspectives and nuances often missed in mainstream media.
And let's not forget her interviewing skills – she's one of the best! Whether it's getting personal with Oprah, diving deep with Michelle and Barack Obama, getting the lowdown from Sheryl Sandberg of Facebook, sharing heartfelt moments with Kobe Bryant's widow Vanessa, or handling that explosive R. Kelly interview – you know, the one where the world saw his meltdown post those serious abuse allegations – Gayle's interviews are always on another level. She doesn't just ask questions; she gets the real story. That's Gayle King for you, a journalist who's not only been a game-changer in news but also a trailblazer for Black representation in media.
Natasha S. Alford
When it comes to rising names in journalism, Natasha S. Alford is a name you must remember. She's not just another face on TV; she's a powerhouse journalist and a voice for the voiceless. A proud graduate of both Harvard and Northwestern University, Natasha has been making waves in the world of journalism with her insightful reporting and compelling storytelling for quite some time.
At the heart of her work is a deep commitment to shedding light on issues that matter, especially those affecting the Black and Latino communities. Whether she's in front of the camera as a TV anchor on her show, 'The Grio Weekly', commentating from the set of CNN as a regular contributor, or behind the scenes as a deputy editor and executive at TheGrio, Natasha brings the same passion and integrity to every story she tells.
Her knack for getting to the heart of complex issues has not gone unnoticed. Natasha's work is more than just delivering news; it's about amplifying voices that are often overlooked and bringing a fresh perspective to the table. She's covered everything from political upheaval in Puerto Rico with her documentary "Afro-Latinx Revolution: Puerto Rico", to the Black Lives Matter movement with her TEDx talk "The Coverage to Report". No matter the story, she has always leads with a focus on how these events impact real people.
What really sets Natasha apart is her ability to connect with viewers. She's not just reporting stories; she's living them, feeling them, and this authenticity resonates with her audience. And let's not forget her interviewing prowess. Natasha has a way of making even the most reserved subjects open up, bringing out angles and insights that others might miss.
In a nutshell, Natasha is more than a TV anchor, she is a journalist who's changing the game. Her presence on TV isn't just important for its own sake; it's a beacon of hope and progress for diverse representation in media, showing young Black and Latino journalists everywhere that their voices matter and can make a difference.
Jeannette Reyes
Jeannette Reyes is more than just a familiar face on your morning news; she's a trailblazer in the world of journalism and a rising star on social media. A graduate of Kent State University, Reyes started her career as a reporter in Little Rock, Arkansas, before making waves in bigger markets like Washington, D.C., and Philadelphia. Now, she's a dynamic presence on FOX 5 Morning and Good Day D.C., known for her engaging storytelling and insightful coverage of local news.
What sets Reyes apart is her unique blend of professional journalism and social media savviness. She rocketed to social media fame with her lighthearted 'anchor voice' TikTok videos, providing comic relief while subtly highlighting the art of code-switching—a skill many journalists of color master. Her content, ranging from humorous takes on everyday life to insights into the broadcast news industry, resonates with a wide audience, showcasing a different, more personal side of a news anchor.
Reyes' impact as a black female news anchor is profound. In an industry where representation is crucial, she stands as a role model, particularly for the Afro-Latina community. She breaks the mold, showing young, aspiring journalists of color that they too can achieve success in mainstream media while staying true to their roots and personality.
Her approach to news, combined with her social media influence, exemplifies a new era of journalism—one that's more relatable, accessible, and inclusive. Reyes not only reports the news but also connects with her audience in a way that goes beyond the traditional role of a TV news anchor. By bringing her authentic self to both the newsroom and social media, she's redefining what it means to be a news anchor in today's digital age.
Laura Coates
Laura Coates has had a remarkable journey to becoming a primetime news anchor. While it's not unusual for former lawyers to transition into news and provide legal commentary, Coates's path was unique. A Princeton and University of Minnesota alumna, she wasn't just any lawyer; she became a federal prosecutor for the United States Department of Justice. In this role, she worked in the Civil Rights Division and later as an Assistant United States Attorney for the District of Columbia.
Her shift from legal practice to analyzing legal issues on television was significant, but she brought unmatched expertise to the field. This made CNN's decision to hire her in 2016 a particularly wise choice. Her contributions on CNN eventually led to her own show on Sirius XM and regular stints as a fill-in anchor for Don Lemon and Chris Cuomo during primetime. By 2023, it was time for her to helm her own program.
Now, Coates hosts 'Laura Coates Live' at 11pm nightly, marking her as one of the few Black female news anchors in primetime. Her ability to dissect complex legal issues is invaluable, particularly in a climate where both current and former presidents face various legal challenges. As a trial lawyer, Coates excels in interviewing, consistently challenging her guests with a blend of fact-driven and relentless questioning. She never allows them to simply promote their narratives unchallenged.
Most notably, Coates's background in the Civil Rights Division equips her with a unique empathy for today's social issues, particularly those affecting Black viewers. Her insights come with a deep understanding and compassion for the social and legal struggles faced by minorities in America.
Coates's strengths have established her as an essential voice in contemporary news. If this is just the start of her anchoring career, the clarity and nuance she brings to our news coverage promise to elevate our understanding to much-needed heights.
Black News Anchors in 2024 and Beyond
With so many Black news anchors currently on the air, it's important that we celebrate where we are today. We've come a long way from not having anyone sitting behind these TV news desk, and now we have some of our best and brightest being trusted with delivering news to Americans of all creeds and colors. Of course, the fact that these anchors are Black, also gives rise to a better representation of Black people in news. For decades now, TV news has played a deep and terrifying role of showing America a disproportionate representation of Black people, which has led not only to non-Black people having the wrong perception of Blacks, but has also resulted in Black people not feeling as confident about themselves. But with these trusted anchors spearheading the news coming out of our TVs, and hopefully our SmartTVs and phones too, it looks like we're closer to having a more representative news media that we all can rely on.